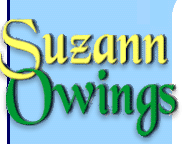 Message Of The Day
Thursday, April 19, 2018
"Yeah, it's the best day of the week. Today will be fun and joyous. It's all up to you. The rest of the week glide by, enjoy the ride."
Home
Welcome...
This website began solely to house the free tarot readings available by clicking on Tarot. Now it provides considerably more:
Intuitive Counsel - Contact professional psychic Suzann Owings, learn about her intuitive consultations and access links to other good resources.
Sixth Sense Stories - Discover how else you may use your intuition. Contribute your own stories by clicking Contact us. We'll consult with you before posting your written account.
Tarot - Receive a Mentor, Message and Your Homework to aid you achieve your highest good
Media - Enjoy samples of Suzannഷo newspaper columns and radio program--塿Dr. O財dio and newspaper) and 㴲o-Tarot讥wspaper).
The Humm - Share in events worldwide through Suzann஥wsletters.
While your Tarot reading and all other information on this website may be downloaded and printed for your continuing personal use, the site is copyrighted and may not be reprinted for public or commercial use, without Suzann Owingsà·²itten permission.

This siteࢥen designed to give you the support needed to take good care of yourself. Use it well.